Whidbey and Camano Islands are filled with small family farms.  Some have been owned by the same family for more than 100 years and others are owned by young families just starting out on a great adventure.
And, even though these are working farms with real deadlines and all the other pressures of running a business, they're pretty proud of what they do, and some are willing to take the time to share that pride with visitors.
In addition, there are some other farm experiences that can help you home in on the agricultural "vibe" of the islands.
Here are five ways you can dip your toes into island farm life.
EXPERIENCE #1 - Farm Tours
Time permitting, several farms will offer free tours.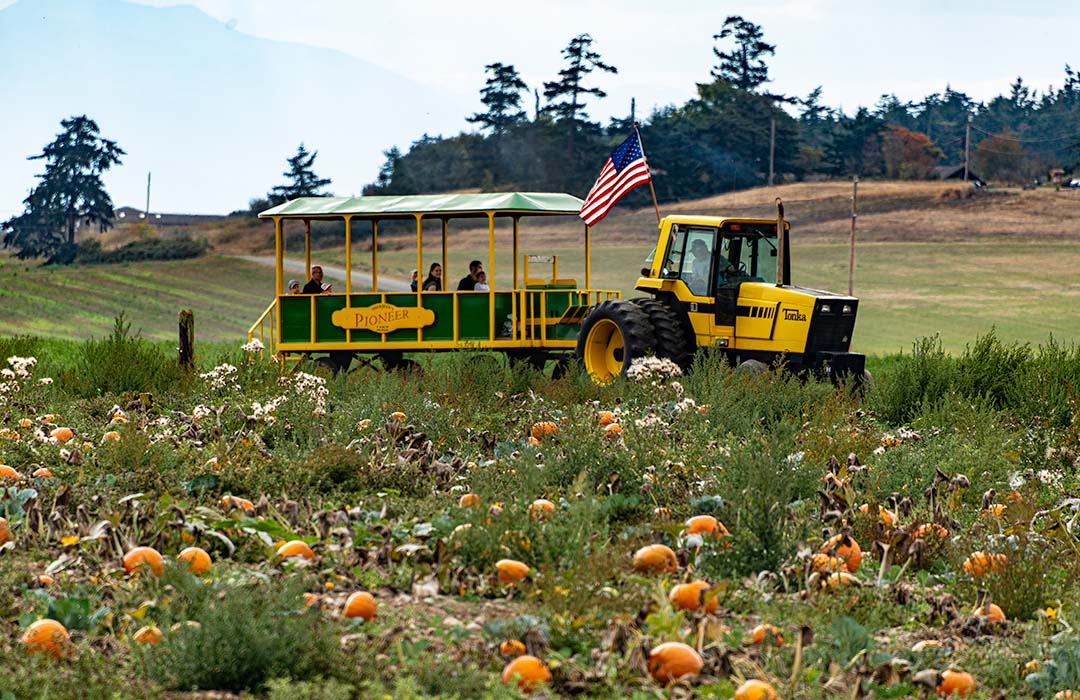 Families ride the trolley into the Pumpkin Patch
Sherman Pioneer Farm | Whidbey Island – Among the area's oldest, this farm opens for pumpkin-picking each October and features a trolley ride to the field. https://www.facebook.com/SPFProduce/
Bell's Farm | Whidbey Island - The well-stocked farm stand is always a great source of fresh things to eat. The farm is also a photographer favorite.  https://www.bells-farm.com/
Organic Farm School | Whidbey Island – Each year a new group of students learn everything from soil to the business end of things. Contact the farm ahead of time for a tour.  Yes, they accept new students each year.  https://organicfarmschool.org/farm-stand
Spoiled Dog Winery | Whidbey Island – This photogenic vineyard is a great spot for picnics! Of course, there is always wine tasting with wine available for purchase.  https://www.spoileddogwinery.com/
September is Eat Local Month
Whidbey Island Grown will be featuring many ways throughout the month that islanders and tourists can connect with local food, agriculture, and businesses. It's a great way to showcase local food at a time when it's abundant and enjoy the (usually) nice fall weather with outdoor eating and events.
The Langley Harvest Festival | October 1 - 3
The Harvest Festival is part celebration of fall and part shared learning experience.  Starting with a free dance at the fairgrounds, the weekend will include kids games, local food, beverages, and crafts for sale.  There were also be classes!
Giant Pumpkin Weigh-Off | October 2
It's time to see who grew the biggest pumpkin around!  10:00 a.m. - Kristoferson Farm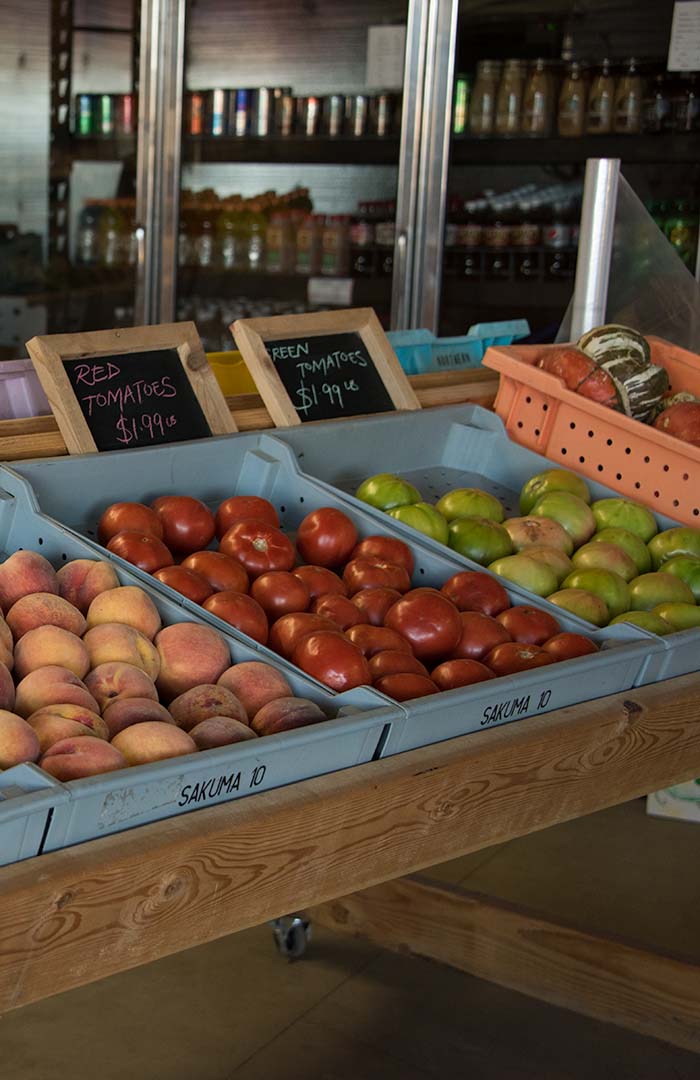 Experience # 2 - Farm Stands
In addition to the stands mentioned above, many other farms have stands.  Some of them include:
Island Harvest Farm | Camano Island – Visit Website
Dugualla Bay Farms | Whidbey Island – Visit Website
Case Farm – Whidbey Island | Visit Website
Mutiny Bay Blues | Whidbey Island – See website… https://mutinybayblues.com/
Orchard Kitchen Farm Stand | Whidbey Island – Visit Website
There are many more.  Check here for a more complete list.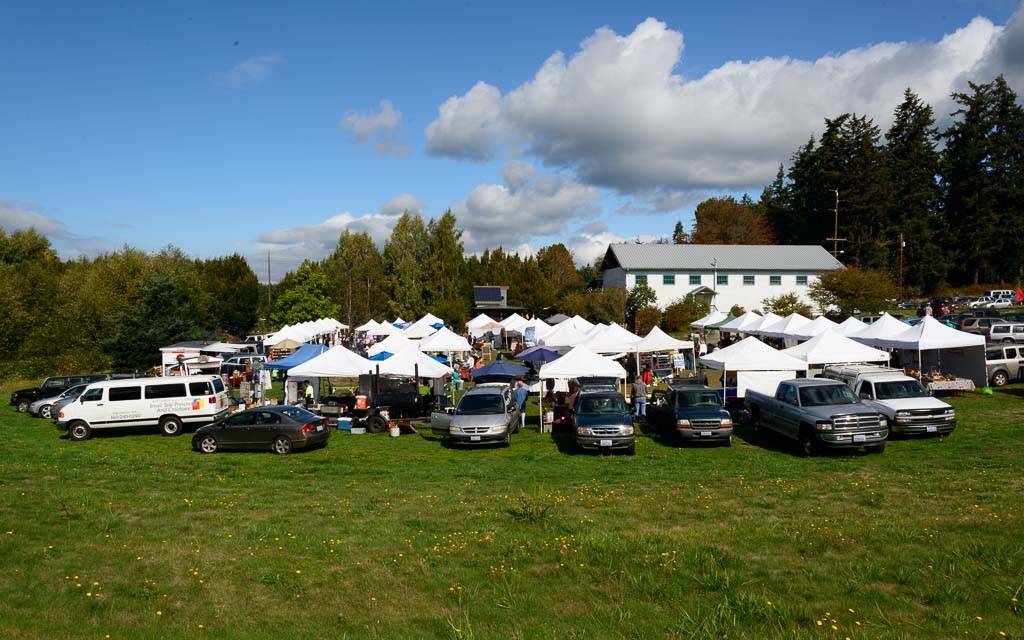 A perfect day for shopping at the Bayview Farmers Market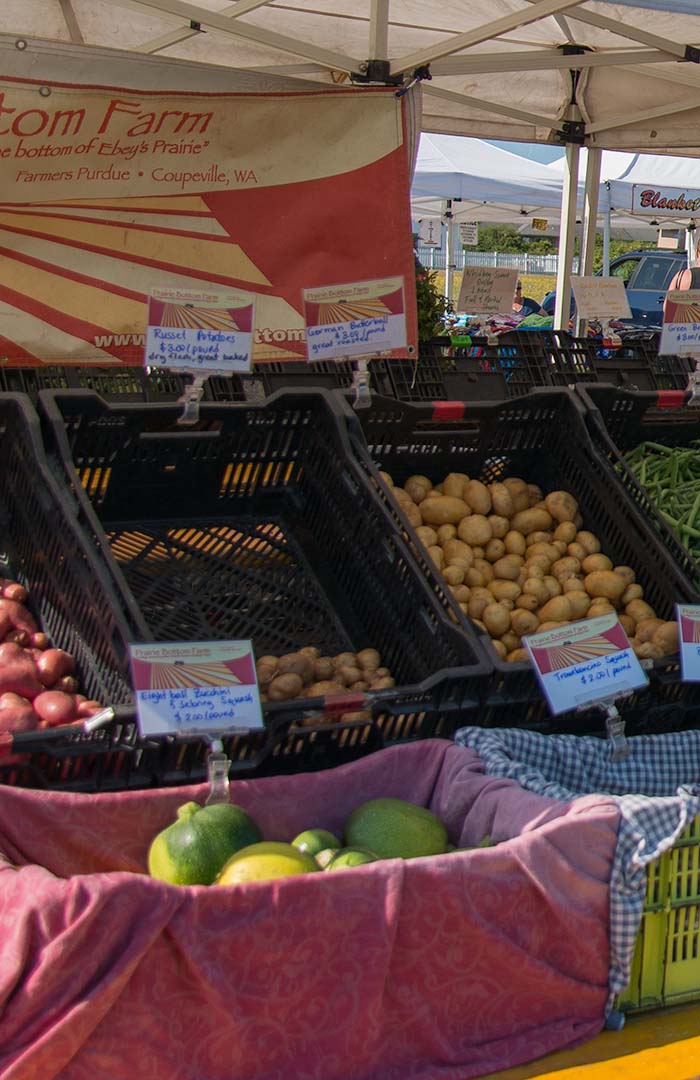 EXPERIENCE #3 - Farmers Markets
Held mostly, but not always, on weekends, farmers markets offer all kinds of fresh goodies.  There are veggies, of course, but also fresh bread, flowers, and often food trucks are there, too!
Be sure to talk to the farmers at the stands.  You'll learn a lot about veggies, cooking, and the region!
Tuesday
Friday
Saturday
Sunday
EXPERIENCE #4 - Farm to Table Dinners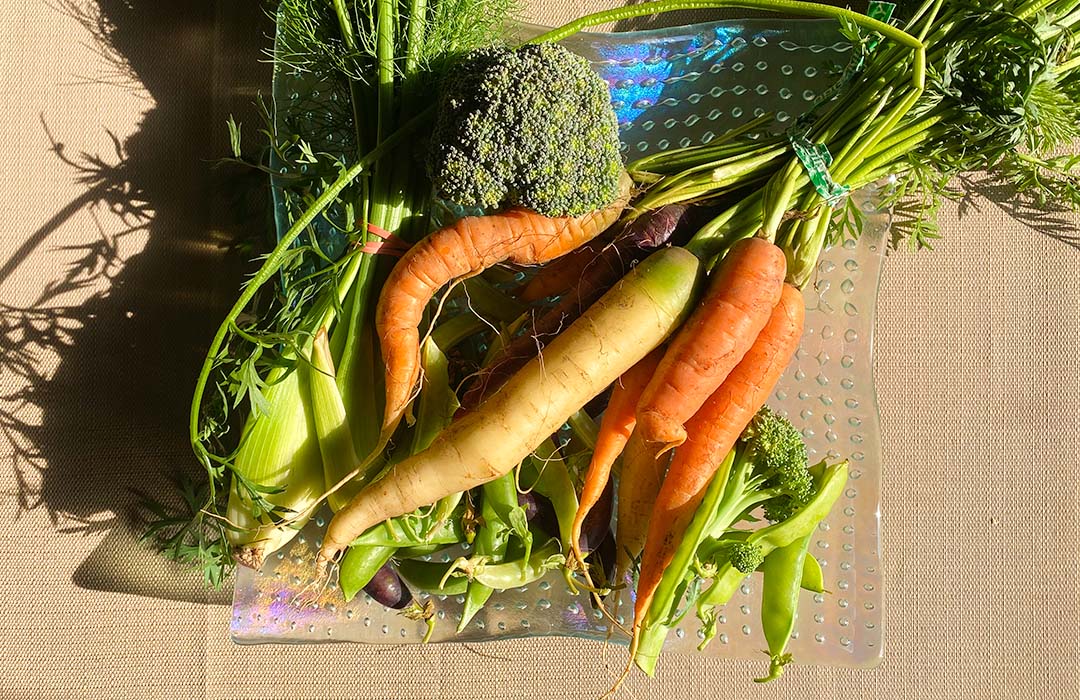 Weekly bounty from Whidbey Island Grown
EXPERIENCE #5 - Whidbey Island Grown Cooperative
Are you visiting Whidbey Island on a Friday afternoon?  Whether you're coming here for a few days or want a taste of Whidbey Island to take home, this is for you!

Experience the freshest goodies the island has to offer in one stop!  Order online by 9 p.m. on Tuesday and pick up on Friday.  No membership or subscription required. Pick-up in Oak Harbor, Coupeville, or Freeland.  Check here for an ever-changing catalog of meat, seafood, and vegetables!